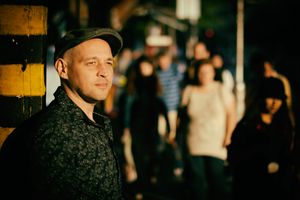 Little G Weevil is a highly esteemed member of the worldwide blues community. He is the solo winner of the Blues Foundation`s International Blues Challenge in 2013, and has been nominated for USA Blues Music Award, Blues Blast Music Award and Independent Blues Award. He released eight internationally acclaimed albums and toured across the globe. During his travels he opened shows for legendary musicians such as Johnny Winter, the Neville Brothers, Denise LaSalle, Otis Taylor, Lurrie Bell, Lightnin' Malcolm, Tinsley Ellis, and had the honor sharing the stage with John Popper, Lee Oskar, Anson Funderburgh, Sam Myers, Annika Chambers, Sharrie Williams, Cedric Burnside, Billy Gibson, Big Jack Johnson, Lonnie Shields, John Nemeth, Bob Margolin, Willie King, Ian Siegal and many more.
Born and raised in Budapest, Gee formed his first band in 1996 and began touring mostly in Hungary and Central-European countries before moving to the South of the United States in 2004. He spent time in Birmingham, AL and Memphis, TN as he tried to establish himself on the local scene. Finally he got his break with a steady gig on Beale Street in Memphis and his reputation started to grow. 
Little G Weevil's very first solo recording is "Hey Jody", the opening number of his debut album "Southern Experience". The studio session was held in 2005 at Charlie Wood's garage studio in midtown Memphis featuring Mr. Wood himself on organ, Billy Gibson on harmonica and other excellent Memphian musicians. 
In 2006 Gee relocated to London, England for love interest but returned to the USA three years later. He married an American lady in August 2009 and they settled in the Atlanta, GA metropolitan area. 
His second album "The Teaser" was recorded in 2011 at Jeff Bakos' studio, Atlanta's legendary location for old-school blues music. The CD has wowed critics worldwide. It was ranked Top 10 Best Blues Album of the Year by Mojo magazine, the popular music publication in the United Kingdom. Sirius XM's B. B. King's Bluesville channel played several songs from the album on rotation, and "The Teaser" has reached No. 2. on the radio's chart in 2012. House of Blues Radio Hour host and Hollywood actor Dan Aykroyd also praised the album. The song "Liquor Store" was his pick of the week.
"Little G Weevil is an amazing player, singer and songwriter. He moves from Hooker to R. L. Burnside to Chuck Berry and old school Mississippi Delta without breaking stride at all. All originals, all stories taken from his life."
-Dan Aykroyd aka Elwood
In January 2013, Gee took the first place at the International Blues Challenge (Memphis, TN, USA) as a solo acoustic artist. He also won the "Best Guitarist" award in his category. Six months later he released his first full length acoustic record "Moving" through Vizztone Label Group (USA). Recorded in Bakos's Atlanta studio once again, Mojo magazine ranked the album "Top 3 Best Blues Album of the Year" and it was nominated for Blues Blast Music Award "Acoustic Album of the Year".
The highest honor given to blues musicians and awarded by vote of Blues Foundation members is the USA Blues Music Award. Little G Weevil was nominated for the BMAs in 2014 in the "Acoustic Artist of the Year" category. Later that year he joined the judging panel in the 5th series of X-Factor (Hungary), the mainstream television music talent show franchise. Meanwhile working on the TV show he signed a contract with Piedmont Talent Agency, one of the largest booking agencies in blues music. However, the following year the agency closed its business. 
On April 12, 2015 Gee's long time friend and album producer (The Teaser, Moving) Lee Jones Mitchell passed away. The same month his wife filed for divorce. Following these series of shocking events Gee slowed down his touring schedule. 
His next album "Three Chords Too Many" was released in 2016 through the Hungary based XLNT Records. The CD includes two separate studio sessions: The first five songs were recorded in St. Louis, MO, USA at Paul Niehaus's studio. Paul is featuring on upright bass and mandolin in a few tracks. The second half of the CD was taped in Budapest, Hungary with guest appearances by Jumping Matt and Mr. Jambalaya. 
Little G's 2017 release "Something Poppin" is a pure international work. Musicians and engineers from Hungary, the USA, England and Spain worked on this unique record which is Gee's first attempt to venture away from traditional blues music. Although the songs are clearly inspired by the Blues and Gee was excited about trying something new, the album did not meet Gee's commercial expectations.
In 2018 Little G Weevil returned to Birmingham, AL (where he spent his first months in the USA). The album simply titled "Back in Alabama" has two separate sessions captured: A live concert featuring Rachel and Carla Edwards on back vocal also Maurice Nazzaro on harmonica, and a studio session with Tamara Nicolai on upright bass. 
Due to family reasons Little G Weevil returned to Budapest, Hungary in December 2018. 
During the first year of the covid pandemic he wrote a based on real life novel titled "Játssz Tovább" (meaning Play On, the adventures of a Hungarian blues man around the world), which is now distributed nationwide in Hungary. 
The same year the EP "Fish Tank" was released with K. C. Brown on harmonica and Csaba Pengő on upright bass. This is the first record with Little G Weevil on drums.
On December 31st, 2020 he released a very special album "Play On" featuring star guest singers from the United Kingdom and Hungary: Dionne Bennett, Ian Siegal, Fatima Mohamed, CéAnne, Vera Jonas, Sena Dagadu, Rita Foris, Jonathan Andelic and Mo' Gigs front man Csaba Gál "Boogie". Although the pandemic "did not allow" this 20+ piece production to tour, the actual album premier was held at the prestigious Palace of Arts main concert hall in Budapest.
In February 2021, Little G recorded a 100% acoustic, 100% live solo set for Hunnia Records. The 17 songs set was released digitally in April as "Live Acoustic Session". The album was nominated for Blues Blast Music Award in the "Live Blues Recording of the Year" category and topped the Roots Music Report's Acoustic Blues Album Chart in November, 2021.
As of March 10, 2023 Little G Weevil is working on his final studio album. 
The album is due for release in July 2023.
Discography:
2021 - Live Acoustic Session (Hunnia)
2020 - Play On (Gee Wee)
2020 - Fish Tank (Gee Wee, EP)
2018 - Back in Alabama (Gee Wee)
2017 - Something Poppin` (Vizztone/XLNT)
2016 - Three Chords Too Many (XLNT)
2013 - Moving (Vizztone)
2012 - The Teaser (Apic)
2008 - Southern Experience (Apic)


Recognition:
2021 Blues Blast Music Award Nominee "Live Blues Recording of the Year" for "Live Acoustic  Session"
2017 Independent Blues Award Nominee "Best Modern Roots CD of the Year" for "Something Poppin`"
2017 Hungarian Music Award Nominee for "Something Poppin`"
2016 Independent Blues Award Nominee "Acoustic Blues Album of the Year" for "Three Chords Too Many"
2014 HANOSZ Award Recipient "Musician of the Year" (Hungary)
2014 Blues Blast Music Award Nominee "Acoustic Album of the Year" for "Moving"
2014 USA Blues Music Award Nominee "Acoustic Artist of the Year"
2013 International Blues Challenge Solo Winner (Memphis, USA)
2013 International Blues Challenge "Best Solo/Duo Guitarist"   (Memphis, USA)